Hairreau Hair Treatment System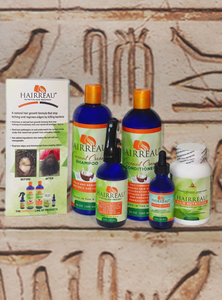 Hairreau Hair Treatment System
Regular price
$175.00
Sale price
$155.00
Description: The Hairreau System when used together regrows hair naturally and quicker than any other product on the market today. Hairreau works in many ways, mainly by killing pathogens on the surface of the scalp and deep down in the follicle bed. It also stimulates the hair  shaft to grow in two ways. By providing nutrients necessary for proper hair growth that many diets just does not provide and stimulates the follicle by providing a rich root enhancer known as Apricot Kernel Oil that stimulates and strengthens the hair shaft as it grows to prevent shaft breakage.
Directions: See individual product label image for details. 
Ingredients: See Individual Products For Details.

Similar products
Customers who viewed this item also viewed